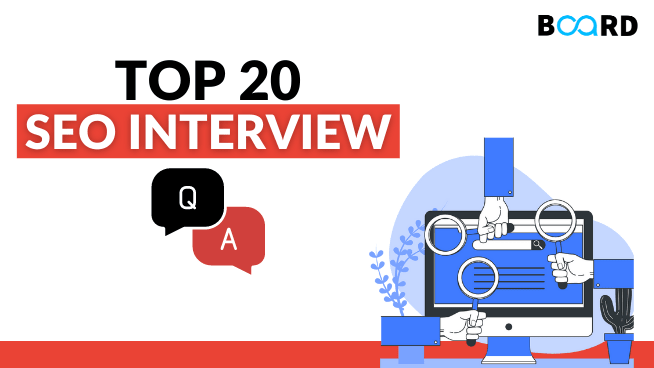 Top 20 SEO Interview Questions & Answers
SEO stands for Search Engine Optimization, and it is a technique for increasing the visibility of a website in search results. SEO is a growing industry because every business wants their website to rank at a higher position on Google.

Acquiring SEO Skills is not that easy because it's not one-time learning; since Google keeps changing the algorithm. So, even after getting a job, you need to be updated about the recent algorithm to strategize your SEO work.

Are you going to attend an SEO Interview and wondering about the questions they're going to ask in the interview? Don't worry! In this article, we have mentioned the significant and common SEO Interview Questions and Answers. So, read this article carefully and foolproof your preparation.
SEO Interview Questions and Answers
1. What are the types of SEO?
There are two types of SEO such as:-
On-Page SEO:- On-Page SEO is used to optimize the particular keyword or page to improve the search visibility in the results page. On-Page SEO mainly focuses on the content, headings, title, and meta description of a website.
Off-Page SEO:- Off-Page SEO is the backend part where you create backlinks for your website or a specific blog post to increase the ranking in search results.
Off-Page SEO activities include creating backlinks, guest posting, and many more.
2. What is a Backlink?
Any incoming links from other websites to our specific page or website is known as Backlink.
3. What is Internal Linking?
Linking within a website, to a different page of the same domain, is called Internal Linking.
4. What is an Outbound Link?
Any link on a website that links out to another website is called an Outbound Link.
5. Name some SEO Tools?
Various SEO Tools are available, and each one has its pros. If you want to check the organic keywords, you use Ahref, and if you want to check the DA, PA, Spam Score, then you use Moz pro to analyze the website.

So Mostly, I use Ahref and Moz Pro.
6. What is Keyword Density?
The percentage/frequency of how often a keyword appears in a particular post.
7. Differentiate between a Do-follow and a No-follow Link?
A search engine crawler crawls a Do-Follow backlink, and you'll be getting a link juice from that particular website.

Whereas in Nofollow Backlink, you didn't get any link juice from the website.
8. Which method is used to redirect a specific page permanently?
301 Redirection is used for the permanent redirection of a page.
9. Name a few search Engines other than Google?
There are various search engines other than Google, such as:-
Bing
Yahoo!
Yandex
DuckDuckGo
Baidu
Ask.com
10. What are the most important ranking factors, according to you?
There are many crucial important ranking factors such as:-
Content Quality
Backlinks Quality
Website Speed
Schema Markup
Core Web Vitals
Domain Authority
Technical SEO
Social Signal
11. What is SERP?
SERP stands for Search Engine Results Page. When you search for a particular keyword, the results which you see on google are known as the Search Engine Results Page.
12. What is Google Sandbox?
Google Sandbox is a theory invented by third parties concluding that the new websites take some time to index on SERP. Before indexing, Google analyzes the authority of that website domain and content.
13. What is Googlebot?
Googlebot is a web crawler of Google that crawls various websites and indexes web pages.
14. What is Web Crawling?
Web Crawling means the Google Bots or other search engines bots visit your website for crawling for indexing purposes. Once the crawler finishes crawling, it copies that web page and adds that URL for indexing.
15. What is meant by Organic Results?
Google shows organic Results according to the content freshness, relevancy, quality, and various ranking factors.
16. What is DA?
DA stands for Domain Authority, and this concept was introduced by Moz, where they scale a website authority ranges from 1 to 100 based on Backlinks Quality and some other factors.
17. Difference between DA and PA?
DA stands for Domain Authority, where it measures the authority of a website. Higher DA leads to a higher possibility of ranking on the first page on google.

PA stands for Page Authority, where it measures the authority of a specific page based on content freshness, On-Page SEO, Social Shares, and other factors.
18. What is a Meta Description?
A Meta Description is a summary of your website content which is shown on the search results page. Meta Description is displayed below your title in SERP.
19. What is Black Hat SEO?
Black Hat SEO is a technique to manipulate the search results by using unethical practices such as creating PBN Backlinks, Keyword Stuffing, Cloaking, etc. This technique may result in penalties from Google.
20. What is meant by the Long Tail Keyword?
Long-tail keywords are the low search volume keywords that are less competitive than short-tail keywords. Search queries are searched by users in various ways, so using Long Tail Keywords in the content is necessary so that your content may rank on other keywords as well.
Final Words
In this blog, we discussed the SEO Interview Questions & Answers. We hope that now you are ready for your SEO Interview and if you have any queries, feel free to comment down.

If you want to enhance your SEO Skills and want to conquer this field, do check out our Digital Marketing Course, where you'll acquire in-depth knowledge about this field through various video tutorials, PDF's and one on one conversations from our expertise. So, what are you waiting for? Book Your Slot Now!
Subscribe to our Newsletter
Receive latest industry news and updates, exclusive offers directly in your inbox.
---