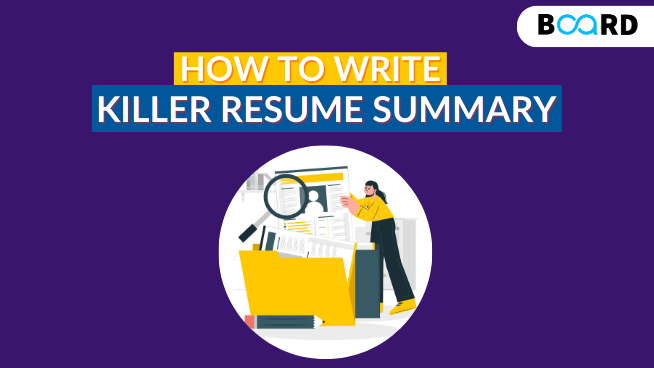 15 Perfect Examples of Summary of Qualifications in a Resume
A Summary of Qualifications can help the recruiter understand what your skills are and where your expertise lies. A summary highlights your career information, education, and other work interests.

It isn't only experienced professionals who can write a summary of qualifications, a fresher can too. It needs to be crisp and to the point, should have relevant keywords, and should be marketable.  

Let's have a look at 15 killer summaries of qualification examples in a resume!
1. Data Science
"I am a passion-driven individual, adept at data analysis and seeking an opportunity to establish a career in Data Science. Certified as a Data Analyst from XYZ university, I have strong knowledge in statistics and other computing tools. I have handled a collaborative project ABC from start to end using various tools technologies like SQL, Python, and Tableau."

"A certified Data Analyst who's well versed in tools like R, SAS, SQL, and Tableau, I have taken up and solved real-time Data Science freelance projects using different statistical algorithms like linear regression, decision trees, and NLP (Natural Language Processing). I love numbers and enjoy creating powerful data-backed stories out of them."

"With a PGP in Data science, I have tremendous technical knowledge of statistics and possess skills like linear regression, logistic regression, various methods of hypothesis testing, etc. I can perform data analysis, testing, and debugging and have developed an end-to-end near real-time ABC project for a national level institute competition."
2. Web Developers
"An aspiring web developer, I have knowledge of various operating systems and have been trained in app development as well (PHP, iOS, iOS development). Having been certified with an MCA. I have in-depth knowledge of tools like HTML, JavaScript, SQL, MySQL, C, etc. My personal website can be found here: ________"

"As a qualified Computer Science expert, I have designed static, dynamic, and responsive websites as a full stack developer in my internship. I possess expert knowledge in frontend technologies like HTML, CSS, Ajax, JavaScript and worked on MS SQL server databases. I am also trained in SEO and WordPress and wish to be an expert web developer."

"I am an aspiring web developer, always keen to work on next-generation technologies. With an interest in theories, I am curious by nature and love to code. Having completed a B.E in IT, and with extensive knowledge in HTML5, CSS, RxJS, MS Azure, SQL, XML, etc., I have developed various websites for my own institute."

"Adept at Python and having a certification in it, I am a fresher who is looking to enter the massive world of IT. I designed some web pages during my internship and also have industry knowledge in PCB design, testing, and tools like MatLab, CorelDRAW, C++, HTML, and more."
3. Management
Digital Marketing
"A Digital Marketing enthusiast aspiring to specialize in Social Media Optimization and Marketing. Optimistic, confident, and adaptable are the qualities that describe me the best. During my internship at ABC, I managed a few clients' day-to-day social media activities and marketing campaigns. I am a team player and a strict follower of deadlines."

"An aspiring digital marketing expert, I am certified from Hubspot, Google, and MOZ. I aim to develop my skills in Social Media Marketing, SEO, Website content development, Google Analytics, Content marketing, etc. I have internship experience in setting up paid ads on Facebook, developing marketing strategies, and social media content and strategy."
Data Scientist
"With an MBA in Statistics and Scientific computing, I have knowledge and experience in implementing complex Machine learning algorithms using Hadoop and Spark. It was here I developed a love for data science. Want to further delve deeper into Management, and Research aspects of Data Science."

"A very detail-oriented, responsible, and dedicated Data Analyst, with a get-it-done attitude with summer internship experience in machine learning, data mining, and predictive analytics. Love to code and develop statistical models. Have an MBA in Data Science and knowledge of programming languages like Tableau, Python, and Excel."
Business Analyst
"Certified and trained in business analytics, data visualization, data mining, dashboard preparation, and root cause analysis, I can provide cost-effective solutions for critical issues. A hard-working and result-oriented Business Analyst, I have a degree in MBA Marketing and certifications in Statistics for business analytics and Tableau training."

"A strong research professional with an MBA in IT, I am an aspiring business analyst interested in working in the information technology and services industry. Skills include requirements analysis, Agile, Software Development Life Cycle (SDLC), Management, and Software Documentation. Additionally certified in business analytics."
Product Manager
"With a PG Diploma in Management, I seek to build life-changing products. Interested in B2B and B2C markets, I aspire to take part in the research and development of products. Self-driven, results-oriented with a positive outlook and a laser-cut focus on product quality and business profit."

"Certified in product and brand management with internship experience in retail marketing. Experienced in market research, competition analysis, PDLC (product development life cycle), data analysis, and reporting. Additional skills include UI Design, Strategic Planning, Agile, Wireframing, and release management."
---
Resume writing is something many jobseekers find nerve-racking as it can be a very overwhelming job. But, it is one of the most important things that we write about ourselves as it can change our lives in a day. So, it is very important to know about its dos and don'ts.  Check out our Free Resume Builder Course for freshers, students, and everyone. Learn about how to write a resume - its formats, action words, skills, and the best sample templates used for resume writing. Take this course and create a perfect resume for the job of your dreams.
Subscribe to our Newsletter
Receive latest industry news and updates, exclusive offers directly in your inbox.
---