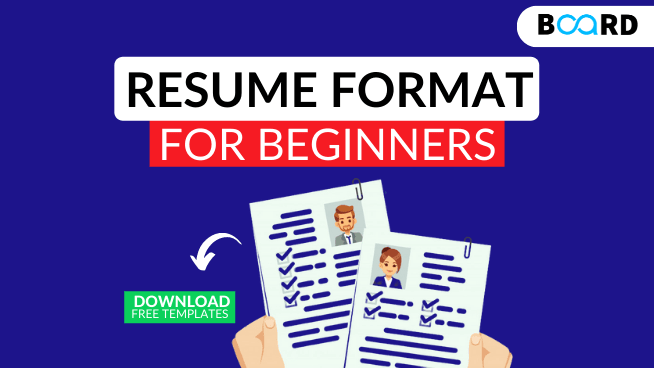 As freshers just out of college, your aim is to find a good job with lucrative pay. But before you head there, don't miss the step that comes before that - creating and perfecting your resume. Resumes are preview documents that help employers gauge if you're fit for the job.
How To Write A Resume
In this article, we guide you on creating that very first resume. Don't forget to check out the free template at the end.
1. Prep-up
Keep all your important mark sheets, your internship notes, and your college project details ready before creating your resume. Because this is the first time, you might need more time, but make sure you enter accurate details. Keep a good professional photograph scanned and ready. This will also help you prepare the resume format.
2. Write down your objective
This is an important component and is a must-have in every resume. Think hard and try to summarize your aim in a line or two. This is your best chance to talk about yourself and your skills. What do you aim for, what inspires you, and what is your ultimate goal? All these questions are great thought starters on writing a good career objective. Remember, it should be professional and customized for every job you apply.
3. Academic section
Your academics will be the point of attention since you don't have any work experience per se, to show. Apart from adding the usual names, mention if you topped any course if you have specialised in any subject, if you took part in extracurricular activities and projects, if you have done a thesis on any topic, or if you were a part of any club or group in school. This is likely to create a big impact than just adding mundane academic details.
4. Include achievements
You must talk about important achievements that you may have secured during your academic course or internship. Make sure to write it down neatly and in bullet points. These will illustrate your personality, character, and hard work. Moreover, it will give the employer an idea of how passionate and driven you are towards results.
5. Include internship experience
Internship and volunteer experience are very, very important. One, because it shows your work credibility and your willingness. Taking the initiative to do tasks is considered to be really good, and most companies look for candidates who are enterprising by nature. In such cases, volunteering experience and internship experience come in handy. Volunteering experience goes a long way in making a positive impression and shows that you can work well if your passion lies there.
6. Include technical & soft skills
Add technical and job-relevant skills on the top, because they're important. Of course, your academics will let the employer know what knowledge you have, but separately listing down the hard skills will score you some points. Dedicate a separate section to talking about soft skills. Soft skills are given maximum importance in the case of freshers because they can't be taught. They're imbibed by an individual over a period of time.
Hiring managers need a combination of both hard and soft skills and if you have fewer hard skills, the addition of soft skills may get you the job. Because soft skills show the potential of the candidate and give the recruiter a good idea of how a person will behave professionally.
Resume Template
You can download this template here. You can also download a lot of other good-looking templates from Canva for resumes, and set to work on it. Invest some time in creating this document and you will not regret any bit of it. With time, remember to keep updating this with new skills and new work experiences.
---
If you want to learn more about how to build the perfect resume then you should join Board Infinity's free Resume Builder course. Get access to tips and tricks on how to create the best resume and impress recruiters.