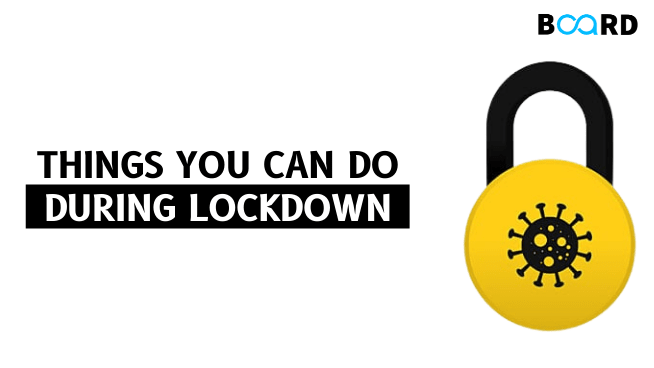 Coronavirus has paused all activities around us, putting countries and offices on high alert. Large group gatherings, daily activities and even dining in restaurants have been put on hold for the foreseeable future, and several natural networking environments have evaporated. Not only has coronavirus made us all work from home and seen thousands hospitalized, but it has also led the economy to a recession. Global growth is predicted to smash in the near future.

What, exactly, does this mean for your career? What should you be doing when the whole world is pretty much on a pause? Can you even find a job in this downward market? Here are the 4 things that you can do during lockdown apart from taking an online course!
1. Make a Plan
This is probably the best time to start making a plan for your life. To get somewhere, you at least need to have a rough idea of where you're headed.
Think of where you want to be in 5 years, and plan backward. Plan out your year, then break it down into months, then finally break it down into days. What is the 1 thing that you can do today which will move you 1% closer to your goal?

If you struggle with planning, this is one of the easiest methods by which you can at least have a rough idea of what you're doing.

Now that you have a plan, the next step is...
2. Networking on Social Media
Social media interest is spiking worldwide! Mainly because the only way to interact with other people in this situation is through social media.

LinkedIn alone has seen over a 55% increase in user engagement over the past few weeks. What does it mean for you? It means that this is probably the best time for you to be networking effectively on LinkedIn.

Connect with people who are a few steps ahead of you in your industry, have real conversations with them, build real relationships, post more, and engage with other people's content more.
There's so much that you can do when you think about it! Build actual industry connections that might help you out in the future. The sky is the limit on social media.
3. Update Your Resume
The next thing you can do is to start updating your resume.

For the people who don't have one yet, start making one today. At least create a rough draft of it so that you know about all your professional achievements. You'll get a rough idea of where you stand and how you can improve from your current position.

If you already have a resume then start adding in the skills that you've learned, make it more appealing, make it more readable, and highlight the important points.

If you need any help, check out our free Resume Builder Course. It's a very in-depth course that will explain to you the importance of a resume, what separates a good resume from a bad one, and a lot more.
4. Improve Your Soft Skills
The phrase 'soft skills' incorporates a wide variety of personality traits, communication and people skills, social attitudes, and emotional intelligence. These qualities (also known as 'core skills') are increasingly important for success in the workplace – and not just for those in leadership positions.

Everyone can benefit from some focused training and development to help them realize their full potential.

Soft skills revolve around personal relationships, character, and attitude. By nurturing these skills, you can increase your work performance, build stronger relationships, and work toward earning a promotion.

Develop your communication skills, strengthen your interpersonal relationships, and demonstrate your professional enthusiasm to show your colleagues and supervisors that your soft skills are well-rounded.
---
That's it!
Those are the steps that you can start taking today to accelerate your career growth even during the lockdown.