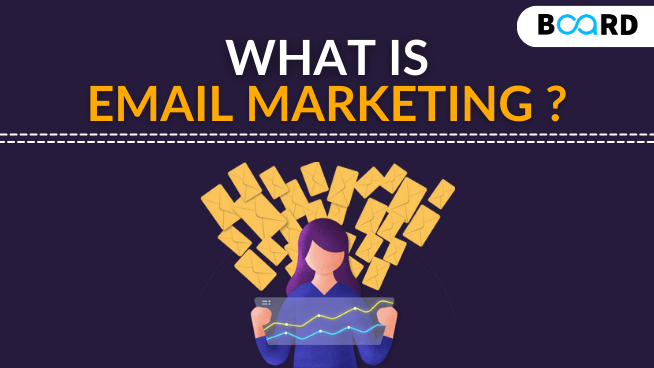 Well, Email Marketing if put simply, is a method of marketing by sending emails to your existing and potential customers. This is done for multiple reasons like building customer loyalty, creating brand awareness, generating leads, selling your product/service, advertising offers, etc. With effective tracking methods, businesses can easily identify if the strategy is working or not, for them. By 2022, the estimated number of global email users is set to touch 4.3 Bn, says Statista. That's half of this world!

Can you imagine how much of a target population becomes available in this case?

In 2017, there were 269 Bn emails sent and received each day (Yes, that's right!) and that figure is expected to touch 333 Bn emails daily, by 2022, says Statisa again.

You can call email marketing as one of the most cost-effective solutions of digital marketing today. It gives great ROI, it's personal and it can help businesses grow by leaps and bounds. It also is a great way to stay in touch with customers.
Benefits of Email Marketing For Businesses
It's an excellent way to build rapport with current customers and potential ones. Most of the emails one receives or sends are because they consented to them. And, that's why it makes all the difference. Unlike advertisements which are served to people without their permission, emails are sent to customers only when they sign up for them. This ensures you have the attention of the people who have signed up, and hence makes it easier for building a long-term relationship. Newsletters, press releases, latest developments or offers sent timely could ensure the same.
The best part about email marketing is that it lets you filter. Email marketing strategies are formulated basis customer profiling. A customer's demographic details, interests, past purchase habits etc. can be taken into account, and accordingly targeted. For example, a florist shop wants to announce a city-wide free delivery, it will send out targeted emails to customers who've shown interest in flowers, creepers, plants and the like. This results in boosted rates of engagement because of high relevance.
It's a massive driver of revenue for businesses opting for digital marketing. Email marketing generates about 29 Bn. pounds of annual retail sales says a report by Marketing Week. Consumer psychology plays a great role here. People who make impulse purchases are the perfect target for email marketing. A well-drafted email with good colors, fonts, relevant content, and a clear call-to-action drives the customer to click and make a purchase. It's easy to convince a customer on this platform, providing your message is tailored perfectly.
Email marketing campaigns are very easy to keep track of and measure. Once an email is sent out, a lot of factors like click-through rates, open rates, conversion rates, etc. can determine how the email campaign performed for your business. Easy tracking metrics like these help to identify where the mistake is happening and rectification is also instant. Improvisation can take place then and there, without having to wait for the campaign to end.
Hence, email marketing needs to be present in all businesses' digital marketing efforts for its effectiveness and ease of use.

Here's a bonus video for all who made it to the end.