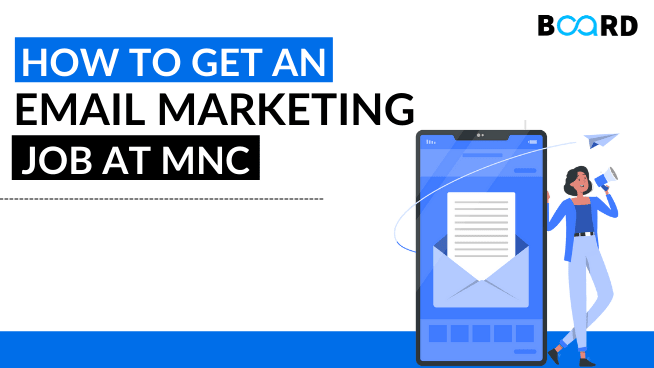 If you're good at writing emails and want to convert this passion into a profession, then you have landed on the perfect website to get a guide for getting an Email Marketing Job at MNC.

First, let's start with the Introduction of Email Marketing if you don't know much about it.

Email Marketing is the act of transmitting a commercial message, usually to an extended group of individuals, via email. In its most basic form, every message sent via email can be considered email marketing. It typically involves the use of email to transmit advertisements, ask for donations or solicit new business. Some businesses view email as the most effective marketing tool available.

Email marketing is a very cost-effective means of advertising and distributing information. It allows companies to reach out to their target audience and make them aware of their existence and services. Therefore, businesses are always on the lookout for ways to improve customer service through email campaigns.
How to Crack Email Marketing Interview at any MNC
Many people ask themselves the skills needed to get an email marketing job, and the truth is that there are dozens of steps that qualified candidates can take to improve their chances.

However, it's essential, to be honest when answering this question because employers are looking for people they feel have a genuine interest in their industry, product, or service.

They are not seeking someone with good looks or a prominent talking ability, so keep those things in mind when answering this question.

For example, if you're an IT support professional, do not answer this question with something like, "I love helping people fix computer problems." This will demonstrate to employers that you have a shallow understanding of the technical aspects of things, and they won't hire you, no matter how bright or talented you might be.
1. Keep Your Resume Specific
The first thing any potential employer looks at when they start the hiring process is your resume. If your resume is filled with all the technical jargon, they are looking for it. They'll pick up on that right away.

So make sure your resume is filled with broad keywords, organized and focused on your career goals. Don't answer interview questions with technical terms. Use language that will get you to the interview.
2. Elaborate Your Skills
When answering interview questions, bring all the relevant skills sets you have developed over the years into the interview. You never want to sound like you are trying to hard-sell yourself to the employer. Instead, tell them that you have these skills and expertise.

Break the list down into your key skill sets, such as the following:
Writing Skills
Networking Skills
Personal Business Skills
Customer Service Skills
Financial Strategy Skills
and Technical Strategy Skills
Focus on what you are good at and this will help you in getting an Email marketing Job at MNC.
3. Future Plans
You should have a detailed strategy of where you plan to go in five years or so. Then list your top strategy goals, and stick with them. The higher the priority, the more attention you need to pay to this area of your resume. When you have listed your strategy goals, focus on your personal career goal too.
How to build the Skills Section on Resume for an Email Marketing Job?
After you have the basic information ready for an interview, it is time to build the skills section. Start listing your skills from a broad perspective, and then break them down into more specific skills. I always recommend starting broad and then going more specific as you progress through the list.

For example, if you are a great typist, you could list typing skills, proofreading skills, and any other skills related to email marketing. The idea is to build a skill set that is detailed enough for an employer to notice yet broad sufficient so you can explain or expound on each skill as needed.

Next, you should create a short but detailed strategy of what you would do in certain situations. This might include creating a follow-up email, following up with a sales letter, or getting the customer to sign up for a gift or report. Again, make sure the skills section is complete before you write this section.
Final Words
There are a few things to remember when writing the skills required to get an email marketing job. First, list everything. Second, focus on the strategy you plan to use to describe the skills you listed. This strategy is going to help you in getting an Email Marketing Job at MNC.

If you have any queries then you can comment down below, and don't forget to check out our digital marketing courses if you want to succeed in this Email Marketing Field.