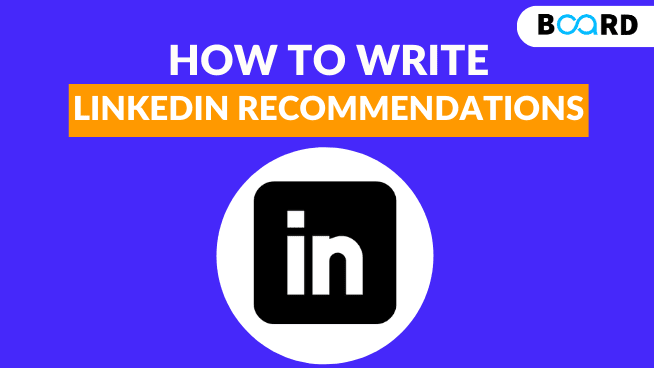 Why LinkedIn endorsements and recommendations are important and How to write one?
LinkedIn recommendations are your digital references. It's the recruiters' favorite place to hover over any profile. It gives an idea about what your peers, colleagues, ex-boss, or your graduation thesis guide thought about you, and your task delivery and efficiency. A well-written recommendation can bag you your dream job. Since these recommendations are public, they actually mean a big deal to everyone. The best way to get endorsed by someone is to actually write out recommendations for them. All good things come back to you-- that's pretty much true here too. Here are some pointers on how to write a LinkedIn recommendation.

1. Start Strong
The basic rule of writing any piece is to make the start interesting and strong. The opening line should be attention-catching. This will ensure people read your recommendation on your acquaintance's profile. If that person is someone you know very well, then you will have a lot to write about--make good use of it. Always start with a positive thought and something that is measurable. Saying something like 'she's the best accountant in the whole world' won't cut it. Instead, use simple phrases and back them up with examples wherever you can.

2. Mention How you Know them
Recommendations only make sense when they're written for someone you know. You need to write in your recommendation as to how you happen to know the person, you're writing it for. This needs to be strictly professional. You can't mention relationships like college besties, or childhood buddies etc. Recruiters tend to give more importance to recommendations that have come from supervisors, bosses, or other co-workers. Try to write as many for your co-workers or juniors, to get some in return.


3. Enlist Strengths
This forms the crux of the recommendation. You must have known the acquaintance for a while professionally, and you must write about their job responsibilities to the best of your knowledge. Be careful of overstating facts. You need to stress that person's strengths and how they helped the company grow and progress. You can also enlist his co-workers' attitude towards him, along with his achievements (if you know of them).

4. Write your View
Making it personal is a key aspect in getting the recommendation right. You need to write about your own opinion about the acquaintance and how it felt to have worked with him over a period of time. Whether that person inspired you, encouraged you, or ensured his support in the challenges you faced, you need to mention all this very clearly. All this will earn that person brownie points. Chalk out his personality for the recruiter and make it easier for them to analyze.

5. Close Stronger
This is an assurance and a positive statement you need to make, as to why you would recommend the individual. It's a final line that will help in decision-making. It needs to have a strong call-to-action that will convince the recruiter about that person and may help him in landing his dream job.

All in all, remember that you're vouching for everything you write in here, and someone is going to take you seriously. So be as truthful, polite, and precise as possible.
Subscribe to our Newsletter
Receive latest industry news and updates, exclusive offers directly in your inbox.
---