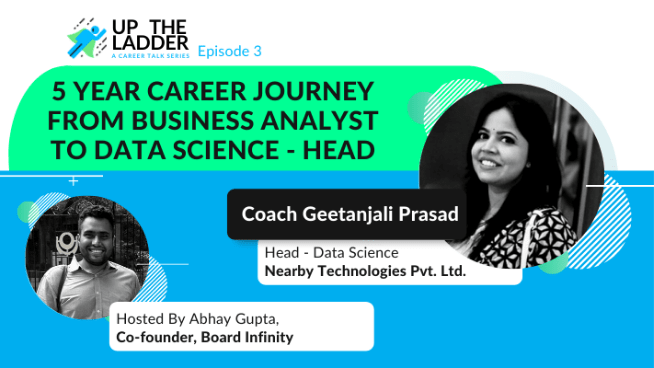 5 Year Career Journey from Business Analyst to Leading Data Science Team (w/ Geetanjali Prasad)
In this episode of 'Up The Ladder', Board Infinity's Co-founder Abhay Gupta interviews Coach Geetanjali Prasad to discuss her career, work-life balance, tips to build a successful career as a fresher, and a lot more.

We've put together a few of the main questions & answers from the interview. There are still a lot of golden nuggets in there that we just weren't able to add in this article.

(You can watch the full interview here: 5 Year Career journey from Business analyst to Data Science - Head | Up The Ladder)
Here's the Interview:
Q1. What do you think about mentoring & career coaching?
I definitely would recommend everyone to be on the lookout for some mentors who can help you in their career journey. I think it's completely necessary.

At the start of your career, you don't really know anything about the industry and you'll find everything interesting. This will cause you to get constantly distracted by different types of work and you won't be able to focus. At this stage, you need someone who can guide you and show you the way.

Throughout my career journey, I've had a lot of people who have been kind enough to show me the way. It's also a bonus because you learn from the people whom you look up to.

Mentors also help you make informed career decisions since they are always 5-10 steps ahead of you in their career, and know more about the industry.

At every step of your career path, you need some kind of mentor. Even at my level, I talk to my mentors from time to time to get their insights.
Q2. How can people improve their chances of selection in a company?
One major thing that I find missing in candidates is that they don't even know a lot of the basic skills. I have seen that generally most people get rejected at the 1st level of the hiring process… Which is mostly just a normal aptitude test.

Even when we hire at our company, we're just looking for the candidate to have a good aptitude. (skills like probability, logical reasoning, etc.)

An interviewer/company doesn't expect you to write amazing code on your 1st day, especially if you're a fresher. They just expect you to have basic knowledge of the domain. Even if you don't know how to code, you'll be able to pick it up if you have a good attitude towards learning.

Most candidates also place their main focus on interviews, which is just not the correct method. They should place their main focus on the other basic skills & preparing a good resume.

Most companies are looking for candidates with good aptitude, attitude, and overall learning capability.
Q3. What do you think are the most important skills for someone who is just starting out their career in data science?  
Personally, for an entry-level candidate, I would just look for a basic understanding of statistics, data wrangling, and logical reasoning. That's it!

Most of the companies that you apply for will also just look for these basic skills.

Another important part is your attitude and willingness to learn. The skills can be taught, but what cant be taught is the attitude with which you come to the company and approach day-to-day problems.
Q4. How do you think the current pandemic has affected the job market for Data Scientists?
If you open LinkedIn right now and look at the number of openings for data science then you'll see that there is a demand for data science professionals, even during such tough times.

This pandemic situation might also actually help out data science professionals in getting better jobs.

Let me explain.

Right now, each company is trying to figure out how to adapt to future markets and they're doing this by analyzing their past data. Companies that didn't have any data science team in the past are trying to hire more data professionals to figure out how to optimize their future strategies. And that's where a data science professional comes in.

It would be a bit challenging for people who don't know anything about data science, but those who have taken the time to build the relevant skills will get more opportunities.
Q5. Any final tips for freshers to prepare better for a data science job?
I would definitely say that students should take up new courses during this extra time that they have. You should also focus on getting any good opportunities that you find, not in terms of money but in terms of learning.

I truly believe that the first 2 years of your professional life are where you need to build a strong foundation that will help you get amazing jobs in the future.

I always tell students to not focus on money at all during the first 2 years of their career and I personally followed this same rule at the start of my career journey.  

You should also keep in mind that just doing courses won't be enough… You need to parallelly apply the knowledge that you learn in these courses so that you grow. You can start participating in various hackathons, working on projects, participating in GitHub contests, etc.

Always remember that if you just take a course or do a certain certification and don't actually apply the knowledge… It will just be another addition to your resume and you won't learn any skills from it.
---
Abhay Gupta & Coach Geetanjali Prasad spoke in-depth about a lot of things including her engineering journey, the challenges she faced at different companies, her early career, and a lot more.

Take some time out & watch the whole interview here: 5 Year Career journey from Business analyst to Data Science - Head | Up The Ladder

Subscribe to our Newsletter
Receive latest industry news and updates, exclusive offers directly in your inbox.
---