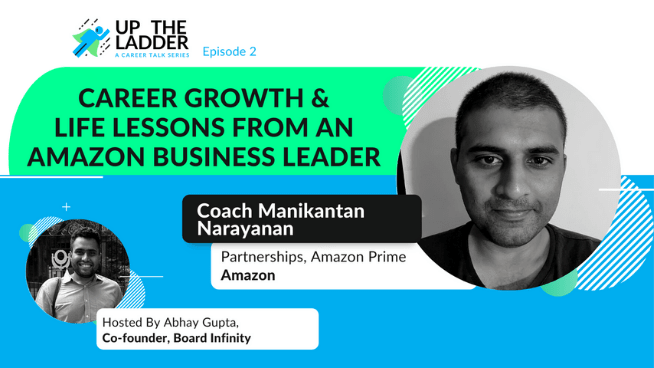 Career Growth & Life Lessons from an Amazon Business Leader (w/ Manikantan Narayanan)
In this episode of 'Up The Ladder', Abhay Gupta (Co-founder of Board Infinity) had a very deep discussion with one of his very good friends and MBA senior Mr. Manikantan Narayanan (Handles Partnerships at Amazon Prime).
We've put together a few of the main questions & answers from the interview. There are still a lot of golden nuggets in there that we just weren't able to add in this article. (You can watch the full interview here: Career Growth & Life Lessons from an Amazon Business Leader | Up The Ladder | Ep. 2)
Interview Summary
Q1. Amazon's hiring process & Any tips for people who want to get into Amazon?

The interview process for Amazon is quite different... Most of the questions focus more on the 14 leadership principles of their company.

A good place to start would be to learn about these 14 principles, what is the main goal of the company, what are they trying to achieve by asking you such questions, etc. Once you have this information, you'll need to figure out how you can match/relate your previous experiences to those 14 principles.

Here's a bit of a breakdown of the process (for a mid managerial job):
2 telephonic interviews
5 or 6 in-person interviews
Lastly, 1 final interview
The last tip I would give is that you should at least take about 7-10 days to prepare correctly for an Amazon interview. The whole interview process is very physically and mentally draining, and you need to be prepared for it.
Q2. Any tips for someone who wants to improve their communication skills?
We live in a world where the most common medium of communication is English, but at the same time, you don't need to be extremely good at it to get hired.

You just need to be able to communicate in a manner where the other person understands what you're trying to say. You don't need to use fancy words or sentences. Even if you use a few Hindi words here and there, it doesn't matter much in an interview.

You need to remember an interview is a selection process and not a rejection process. People are not really looking for someone with an amazing vocabulary, they're looking for someone who'll be able to fit the role in their company.

As for your communication skills… Remember that nobody starts off as William Shakespeare. If someone is good at English, it's because they have learnt & practiced it for years. Learning English, like anything else, is a process. If you keep learning and keep practicing, you'll get good at it. (like any other skill)
Q3. How do you think that knowing your strengths & weaknesses affects your career?
I think it's extremely important to know what your strengths and weaknesses are. As long as you have that clarity, you'll be able to choose your career path wisely.

When you know your boundaries (what you can and can't do) it'll allow you to set correct expectations. When you have the right set of expectations, you're less likely to be disappointed in life. It's not just about B-school or academics, but it'll actually help you make decisions in life.

Having unrealistic expectations will only make you more disappointed when you don't achieve them. In the end, you don't really want to live your life full of regrets.
Q4. Final Tips for freshers who are preparing for their first job?
There is no substitute for preparation and the effort that you have to put in to get to where you want to be. Talent will only get you so far, it is hard work that will ensure that you are able to perform consistently.

This is nothing new, and I'm telling you this because I strongly believe in it and it has worked for me my whole life.
Do Watch our Video of the Career Growth and life Lessons on YouTube:

I think the influence of other people also plays a huge role in your professional career. You need a coach, mentor, or just someone that you can bounce ideas off and get guidance.
Even if you're not good academically... If you can stay committed and passionate about something then you'll be able to achieve anything that you want.
---
Abhay Gupta & Coach Manikantan Narayanan spoke in-depth about a lot of things including his key learnings at Flipkart & HCL Technologies, his experience with MBA, his college life, mindset hacks for interviews, his early career, etc.

Take some time out & watch the whole interview here: Career Growth & Life Lessons from an Amazon Business Leader | Up The Ladder | Ep. 2
Subscribe to our Newsletter
Receive latest industry news and updates, exclusive offers directly in your inbox.
---