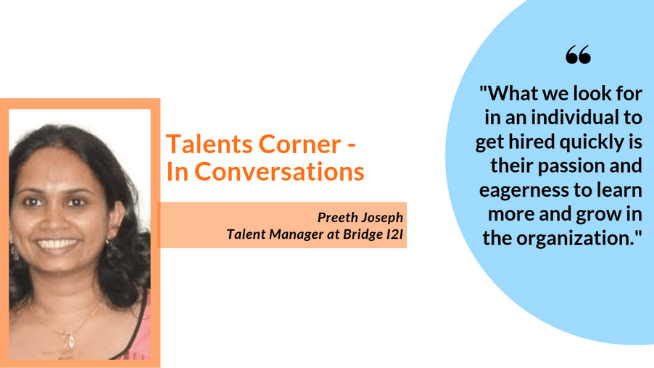 In conversation with Talent Manager at Bridge I2I on essential skills in Analytics
Bridge I2I provides AI-powered analytics solutions to solve complex business problems and deliver digital transformation outcomes to their clients. The AI accelerators simplify and democratize consumption of insights and recommend the right business actions, enabling faster and more accurate decision-making across the enterprise.

Being an experienced professional in the domain of analytics, Preeth Joseph, Talent Manager at Bridge I2I shares few words about the company and her views on the forthcoming skills in analytics.

"With over 17 years of experience as a recruitment professional, I found my taste in analytics when I started with MuSigma. Bridge I2I was into analytics services for the first few years but for the last two years, we are also focusing on Solutions & products. We are basically into Big Data and Predictive Analytics with the latter being the most involved. In Bridge I2I, I take care of Talent management.

We hire young and talented freshers from campuses during the period between June-October. Finding the right talent, in this case, is a challenge. Once hired the freshers to undergo training, inductions, various classroom sessions, and also be given live-project opportunities to sharpen them. We also provide internships and expect that the candidates be deployable directly. In the case of lateral hiring, we hire through referrals, job boards, consultants, and few applications we get on our websites.
What we look for in an individual to get hired quickly is their passion and eagerness to learn more and grow in the organization. Apart from this they should do hard-core coding, have good analytical and problem-solving skills. Surprisingly we also find many non-engineering candidates having a passion to grow in this field so we go for hiring these candidates too. All they need is to have knowledge of programming or a good relevant experience.

Talking about our ongoing projects, they vary from data lake creation to predictive analytics. We also have projects in Image/Video analytics. Our product Bridge funnel is an Artificial Intelligence enabled sales assistant that provides deal-level recommendations to sales reps based on competitive Intel. We at Bridge I2I always look for bright and enthusiastic people to be a part of our team".
---
We would like to thank Preeth Joseph from BridgeI2I for sharing her thoughts, problems, and skills they look at while hiring candidates.

If you're curious and want to learn skills and in-demand data science technologies, you can have a look at our data science learning path here.
Subscribe to our Newsletter
Receive latest industry news and updates, exclusive offers directly in your inbox.
---