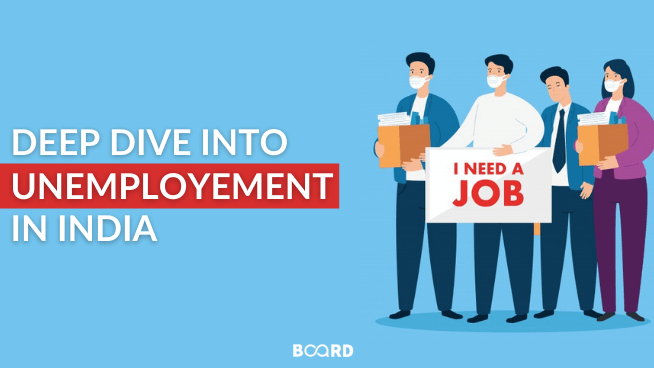 Why has unemployment been a major reason for rising concern in India? Because there's a huge amount of data available outside to prove so. And it's worse because, the number of graduates being unemployed is rising and no one wants to work in agrarian sectors, at all. The expectations of youth nowadays are for an urban, regular job in any industry, and not in agriculture. If they have good financial backing, then a lot of people choose to remain unemployed.

The World Bank says India creates 8.5 million jobs every year to keep the employment rate from falling. And the working population is just increasing day by day. Now, with that, the unemployment rate has drastically increased too. CMIE (Centre for Monitoring Indian Economy) has compiled data which suggests that the unemployment rate has risen to 7.2%, which is the worst in about 2 years and more. In a report by CEIC, the contributing factors for unemployment increasing population, labor force participation rate which has diminished in the past 28 years from 58.6% to 51.9%, and underemployment and low wages.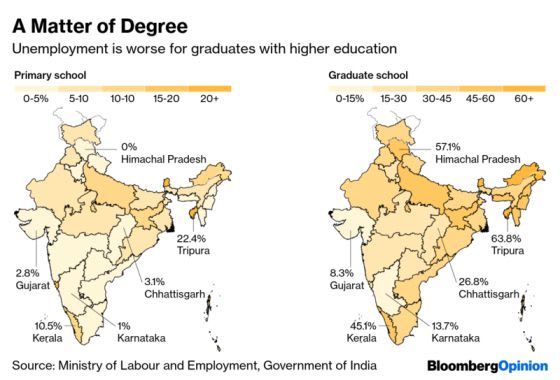 According to a recent bloomberg opinion's editorial - Nearly 35 percent of Indian youth who possess graduate degrees and above are unemployed, while relatively uneducated young workers (6.2 percent unemployment) are doing much better. A highly educated Indian youth is more than five times as likely to be unemployed as an uneducated one.

People who are educated are willing to do jobs, but there is a dearth of jobs to be done. Why might this be? The gap indicates the quality of the jobs being created, with most involving mundane or repetitive tasks. It also says something about the quality of Indian education: Too many engineers and other professionals are waving around degrees that are relatively worthless.

Students pursuing higher education lack the skills needed to get a well-paid job in the market, so graduates prefer to remain unemployed rather than choosing a job which matches their skills, or learning tools and skills to get their desired job.

There is a 5% overall rate of underemployment that's plaguing the country. Ideally, the growth in the country's economy should translate to a rise and increase in employment and job opportunities, but that's not the case says a report by the SWI (State of Working India). The increase in the country's GDP has seen a very minute increase in the number of jobs, says the report. Say, for every 10% increase in GDP, there's only a 1% increase in employment. This rate of unemployment is the highest it has ever been, the report also reveals.
How Unemployment in India can be Improved?
The gap between employment and education is increasing day by day. To rectify this, the jobs created should be on the basis of skills and qualifications provided to the individuals. More emphasis has to be laid on training people with hard skills and soft skills. The working-age population needs to be made well-versed with technological evolution and its applications.


Board Infinity, a leading coaching and career-building platform for job seekers and students, also aims to bridge this gap by providing personalized coaching in various skills to students, making them business-ready. They provide well-researched learning paths involving rigorous 80 to 150+ hours of hybrid training which enable graduates to learn popular and in-demand skills. They also provide training in the domain of data science, full stack development and digital marketing equipping them with tools like python, R, MERN/MEAN, google analytics to make sure that students are up to the mark when it comes to technical knowledge. Learning paths also include training in soft skills, get their resume reviewed by experts and get coached for interview preparation, so their dream job is just a step away.

Therefore, if education is well-targeted and improved, it will help in creating and fulfilling 'quality' jobs with the right talent.