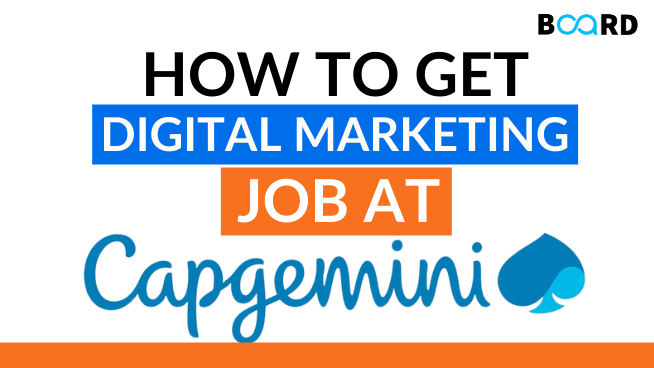 How to get a Digital Marketing Job at Capgemini?
Many Digital Marketing jobs are available in the market today. This is one reason why there are always job openings advertised on the Internet. If you have that knack for marketing and computer savvy, you can surely get a Digital Marketing Job at Capgemini. You will only need those essential skills required for a digital marketing job.

After that, I'll mention the steps to apply at Capgemini for Digital Marketing Designation. So first, let's understand skills because if you lack any of the skills mentioned below, you may not get your dream job.
What are the Essential Skills Required to Get a Digital Marketing Job?
1. Computer Skills
First, you must have basic computer skills and knowledge of Internet marketing and promotion. You must have these skills because you will be dealing with digital marketing campaigns. This is also one of the most important skills required for a digital marketing job.
2. Technical Skills
Second, you must have the technical knowledge of using the computer and the Internet. There are many technical aspects in the world of digital marketing. Hence, you must be familiar with all of them. As a beginner, you cannot just rely on the old techniques because new techniques are being introduced on the Internet every day. Thus, you should be able to stay abreast of all the changes. By having the technical skills, you will be able to use the latest digital marketing methods that are more effective.
3. Marketing Skills
Third, you must have a strong marketing personality and work ethic. Online marketing is a growing industry, and there are always job opportunities. Moreover, many people are interested in this kind of job so there will always be people who are willing to work. However, as a beginner, you should also be patient because there are still lots of people who do not have enough ideas on how to get started with this kind of business.
4. Trend Scouting Skills
Fourth, you should be well informed about the current trends on the Internet. You need to know the different digital marketing methods and their functions. You should have a general idea about this so you can be able to make the right decisions when looking for a job. There are many online marketing jobs for beginners, especially for those who do not have much experience yet. However, you should not expect to land on the tasks that you want to get quickly. Remember that there is plenty of competition in the online marketing world, so you should be determined to excel in every online marketing task you get.
5. Managing and Analyzing Skills
Fifth, you should be aware of the things that will affect the marketability of your digital marketing services. Keep in mind that not everything will work the same in the future. There will be more innovations on the Internet, so you should keep yourself updated about these things. Some people are making a living in online marketing, so you should not be afraid to succeed. If you want to excel in your online marketing jobs, you have to be focused and committed to your work.
Tools and Resources
Lastly, you should be aware of the tools and resources when you start looking for digital marketing jobs. These resources are usually available on the Internet. However, you need to make sure that you have them. Having these resources will help you a lot in your quest to be successful in the digital marketing world.
Steps to Apply at Capgemini for Digital Marketing Designation
Visit this link :- https://jobs.capgemini.com/key/digital-marketing.html
You'll get a list of designations and the locations so choose your preferred location
Click on your preferred location and title
Read the Job Description Properly. Once you are sure that you can fit in that profile
Apply for that designation and wait for their call from one of their HR Representatives.
Conclusion
You should be ready to embark on your journey. Keep in mind that you need to work hard. Remember that competition is everywhere, but you should also be wise enough to understand that many people still do not have any clue about digital marketing. With enough hard work and determination, you can be the one who establishes your name in the industry.
Subscribe to our Newsletter
Receive latest industry news and updates, exclusive offers directly in your inbox.
---