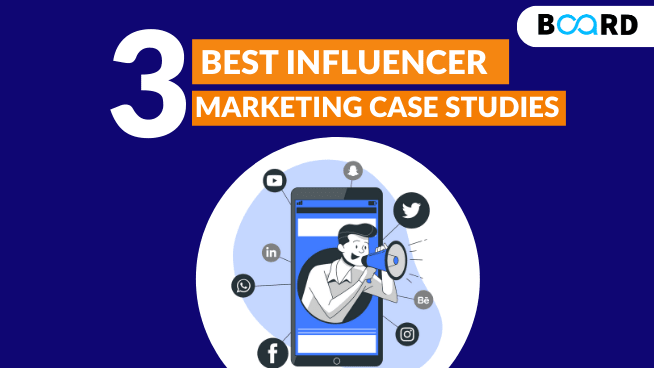 The explosion of the digital age has led to the popularity of influencer marketing. Influencers have an enormous presence online and they leverage this to inspire consumer opinion and behaviours by creating engaging content.
Instagram is said to be the most important social platform for influencer marketing and 78% of influencers worldwide use IG as their primary social platform. Since 2016, 86% of marketers are said to have used influencer marketing and this number isn't going to come down anytime soon.
Case Study 1 - KhataBook
Khata Book is a popular online app that aims to help the small and medium-sized business (SMB) sector manage all types of transactions using its digitized ledger service.

Khatabook achieved its goal of 1 million downloads but how did it achieve this monumental feat? Let's find out.

They had a clear understanding of their goal in mind and customized their digital marketing solutions. They also identified a way to increase the volume of installs while increasing the retention of users by keeping them engaged with the app.
Khatabook found out that their competitors only used Hindi as a language of communication. They saw an untapped entry point and decided to tap the southern parts of India. They started running ads in the top regional languages of the south such as Telugu, and Tamil.
Khatabook collaborated with 250 TikTok influencers across the country who created videos in 15 different languages. Influencers created content that highlighted how users of the app can access their business during a busy season. The content was also curated around trending topics such as Diwali, a spike in the price of Onions, and the New Year.

The use of Tik Tok vernacular influencer ads changed the whole ballgame. They began targeting regional users which helped them achieve the right set of audiences.
Result
After the usage of vernacular content, they saw a 60% incremental growth in install volume and a 20% reduction in cost per install.
Case Study 2 - PNB Met Life
They have launched an initiative to make Indians aware of the various tax-saving options and aid them in better tax planning. First up, they released videos featuring their brand ambassador PV Sindhu. These videos were quirky, to the point and extremely relatable.

The call to action was to push people to access their reports via their mini-website. A catchy hashtag in #ShedTheTax was used. Niche influencers were hand-selected to share their journey of getting personalized tax reports from the website.
The influencers nudged their audience as well to do the same. The major focus was on heart-tugging stories of why financial management is an important issue that needs attention before it's too late. Major communication was that getting help is a good plan.

Ranvijay Singh, Prince Narula and Harbhajan Singh made a massive impact and helped #ShedTheTax to get the desired results.
Case Study 3 - Tata Cliq
Tata Cliq, a leading E-commerce company launched the 10/10 sale but this time with a fun 'Show Them You Know Them' challenge to test how much we really know our loved ones.
The thought process through this festive campaign was to deepen connections with a wide range of gifting options. The brand's motive was to encourage people to show their loved ones that they know them well by purchasing the perfect gift.
Objective
- Raise awareness of curated gifting on Tata CliQ
- Increase brand equity with audiences
- Drive UGC leading to consumer gratification to prompt purchase
Implementation
Tata Cliq created intrigue and excitement by gamifying a challenge. To position Cliq as the perfect place for gift shopping, they decided to unleash the power of influencer marketing.
Celebrity duos took this challenge and had to answer questions about each other. The strategy consisted of selecting two unique pairs of celebrities.

Rhea and Harshvardhan were roped in for the sibling edition while Neena and Masaba Gupta made up the mother-daughter duo. These content pieces highlighted the love-hate relationship between siblings the mother-daughter duo proved that mothers always know their daughters best.

The challenge kick-started with actor Harshvardhan Kapoor challenging his sibling and stylist Rhea Kapoor on IG to the #ShowThemYouKnowThem challenge to prove who knows the other best. The video went live as an IGTV video on their handles.
Cliq also collaborated with 75 other micro-influencers for this campaign. Of the 75, 25 made a video doing the #ShowThemYouKNowThem challenge while others posted a story of the challenge using Tata Cliq's template for answering the 5 questions about a friend, partner, or colleague.

Another goal of this campaign was to encourage audience participation. To do so, they closed the campaign with UGC where the audience participated with their loved ones and took the challenge. The participation instantly Cliq-ed with a young demographic and initiated a desire to get to know their loved one better.
Result
The campaign reached an audience of 3.2 Million while generating 70,000+ actions and 3.48 million impressions.
Conclusion
Influencer marketing is definitely a sure-shot way to create awareness and boost sales of your product or service. If done well, Influencer Marketing is a great strategy and one of the most effective ways to promote your product to your target audience.
---
If you're someone who wants to accelerate your career in digital marketing… You should consider joining Digital Marketing Course | Learning Path

The major advantages of joining a course like this are:
You get 80+ hours of premium content in the form of LIVE classes and offline bootcamps
You get 1-on-1 mentoring directly from Industry Experts
You get access to tons of internship and job opportunities in major companies
You get a pathway to land your dream job
You get coaching on improving your soft skills so that you can crack interviews
You get full support until you get placed
And a lot more…