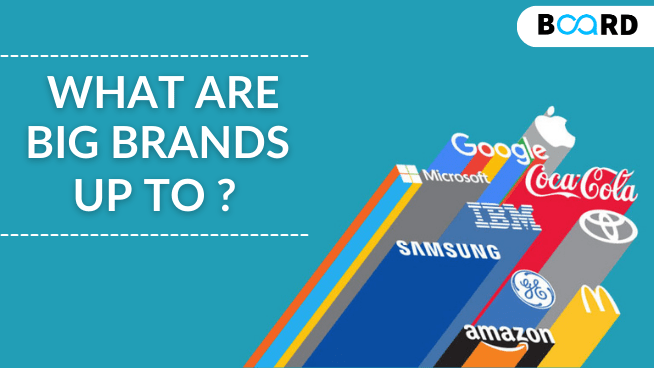 A lot has been going on in the world… The global pandemic, remote work becoming the new normal, and a lot more.

Amidst these things, big brands haven't stopped innovating or making their moves.

Why would they?

In today's blog post, we'll give you some insider info on what the biggest brand names have been up to, and how they've been innovating even during these tough times.
1. Spotify Launches Video Podcast Globally
Spotify has been making some big moves in the podcast industry.

They recently made a $100 million exclusive deal with star podcaster Joe Rogan.

The music streaming service now has a lineup of more than a million shows, up from 700,000 as recently as March.

Coming to the main news, they made a big push into podcasting with a major new offering, as the music streaming service announced plans to let select creators roll out videos along with their core audio offerings.

Usually, views who listen to podcasts also tend to want to watch select podcasts & they can now do this by simply pressing 'Play' on their desktop or mobile app.

The creator-made videos will sync directly with the audio feed. What this means is that, even if you lock your phone, the podcast won't stop… Unlike some other platforms like YouTube.

Spotify has about 130 million premium subscribers (data from March 2020), roughly double that of either Apple Music or Amazon.
2. Amazon Expands Testing Of Delivery Robot
Meet Scout, Amazon's 6 wheeled delivery robot used to deliver packages.

Amazon has put its delivery robots to work during the pandemic.

The cooler-sized rovers help to cut down on human-to-human contact during the nation's current coronavirus crisis. The vice president of Amazon Scout, Sean Scott, said in a blog post that the service helped the company meet increasing customer demand during the pandemic.

Amazon hasn't said how many robots are being used or how many customers are being served by them. However, the devices are built to travel at a walking pace and will be accompanied by someone from the company to start.
3. Twitter Hack: Here's all the Alarming New Details
Twitter accounts of famous influencers have been hacked before, but not on such a large scale.

Someone managed to hack 20+ Major Twitter accounts at the same time and has posted a scam on all of the accounts trying to steal bitcoin from those account's followers.

Major accounts like Bill Gates, Elon Musk, Joe Biden, Warren Buffett, Kanye West, Michael Bloomberg, Apple, Jeff Bezos, Barack Obama, and many more were hacked.

But apparently (from insider info) it wasn't the accounts that were hacked, it was the complete social media platform.

Basically, Twitter was hacked.

The bitcoin scammers managed to get about $100,000+ through this scam before it was shut down.

It looks like Twitter has some serious security issues that it needs to address urgently.
4. 'Alexa for Apps' Will Soon Download Mobile Apps for Us
Amazon is working on a new feature for its Alexa voice assistant that will let the software launch Android and iOS apps using voice commands, a first for Amazon's assistant and bold expansion of its strategy to position Alexa as a platform-agnostic alternative to Apple's Siri and Google Assistant.

Alexa for Apps, the new feature is launching today in preview form, meaning Amazon is working with select developers on how they'd like to make use of it.

For example, an ‌iPhone‌ or an Android user can command Alexa to open Twitter and search for a specific hashtag.

The whole idea to have Alexa for Apps on a device is to download Twitter along with displaying a list of results that can be scrolled through rather than a voice response. This is indeed a very unique way of interaction and the feature and will set an example as a competitor of both Apple and Google.

Alexa has growing popularity these days but on mobile phones, Google Assistant and Siri happen to be the ones that are used a lot more.
5. Disney Has Now Stopped Spending on Facebook Ads
Disney has now started to reduce spending on Facebook and Instagram ads as there has been a rising concern and boycott from companies due to the presence of hate speech on social media.

It has been reported, going by the estimates provided by Pathmatics, that Disney was the top U.S. advertiser on Facebook for the first half, as stated by the Wall Street Journal. The research organization has estimated that Disney's spending on Facebook ads for a good six-month period has been at $210 million.

Many other companies have not been a part of the boycott formally but have also pulled out advertisements from Facebook and other social media sites.

Companies like Coca-Cola, Lego, Starbucks, Unilever, and Microsoft too have stopped advertising on Facebook and Instagram in the month of August.
---
Sign up for our newsletter if you want to receive relevant career growth tips, resume templates, tips from industry experts, and a lot more.