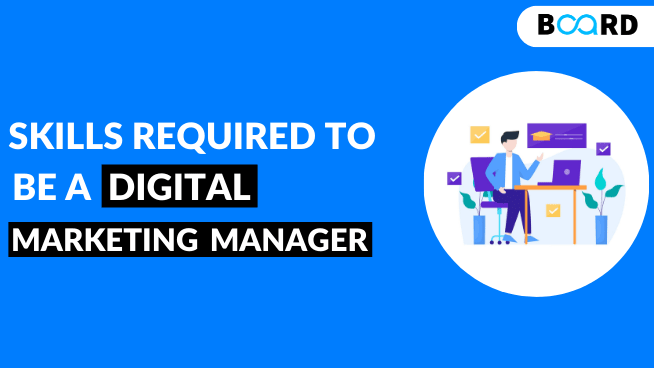 Skills Required to Become a Successful Marketing Manager
A marketing manager's job is most vied for among marketing professionals.

Are you aiming to be one too?

Then you need to know that to become one, you need to prepare yourself academically, gain some experience and get the required skill set.

What do marketing managers do?

They are responsible for creating and implementing a solid marketing plan for the company's products and services. They are also responsible for building a customer base. This role may require them to travel and work for demanding hours. The skills required to become a successful marketing manager.
1. Acquire the Necessary Degree
A bachelor's degree in business, management, marketing, advertising, media, etc. can all help you in gathering knowledge about this field. Although, of course, marketing is skill-based. So even if your bachelor's degree isn't any of the above, you can always get a diploma or do a Masters degree in the relevant field. Having an academic degree in marketing is important as it will polish your basics and fundamentals and make you learn all aspects of it, giving you a holistic view of what is in store. A lot of top retail and FMCG companies especially hire candidates with an MBA in Marketing.
2. Gather Relevant Experience
Be it a fresher, or someone who is changing careers, marketing requires some relevant prior experience when you're looking out for the role of a marketing manager. Join internships while in college itself and try to gain as much practical knowledge as you can. This will also give you an opportunity to mingle and network, so use that to your advantage and make important connections. These connections will prove to be very useful in the future. Try to work in the marketing department of any product company.  Few industries that employ marketing specialists at large are retail, apparel, food and beverages, automobiles, hospitality, etc.
3. Make sure you have the Required Skills
While there are technical skills, there are soft skills too. Try to become a marketer having knowledge of all, and experience in one--a T-shaped marketer. Some skills are non-negotiable and must be present in you. If you feel you are lacking, try to develop them with time and adequate practice. Some soft skills which you absolutely must possess are-- communication skills, collaborative skills, ability to execute, adaptability, and problem-solving. Learn some hard skills like digital advertising, content marketing, influencer marketing, etc. It is only after one acquires these skills that the hiring managers hire marketing managers.
4. Grow up the Career Path
Don't be shy or too arrogant to take up positions below the marketing manager. It is wise to work as a marketing executive or a marketing assistant and understand all the nitty-gritty that goes into being in a marketing position. Based on your performance and growth, you will surely be promoted to marketing manager. Because you have worked from lower on, you will have an excellent idea of execution and all the steps involved, thus it will make you even more successful.
5. Join Professional Groups
Formal networking associations and other online groups on LinkedIn are very beneficial. Once you are a marketing manager, you will be expected to know all the trends and the latest practices available in the market which you will know these groups since people will be discussing. You can also take memberships in various marketing organizations like the AMA (American Marketing Association) and the Brand Management Association, etc. Make sure you also take good marketing magazine subscriptions to stay updated.

Well-trained marketing professionals are much in demand nowadays. So give it your best, follow the above plan and become a successful marketing manager with a high-paying job!

If you want to learn more about digital marketing, check out our Digital Marketing Online Course to start your career in digital marketing. Gain expertise and mentoring by top business experts and professionals in search engine optimization(SEO), social media, pay-per-click, web analytics, mobile, and email marketing. After completing this course, you will get a digital marketing certification, personalized coaching, and placement assistance.
Subscribe to our Newsletter
Subscribe to our newsletter to receive exclusive offers, latest news and updates.
---