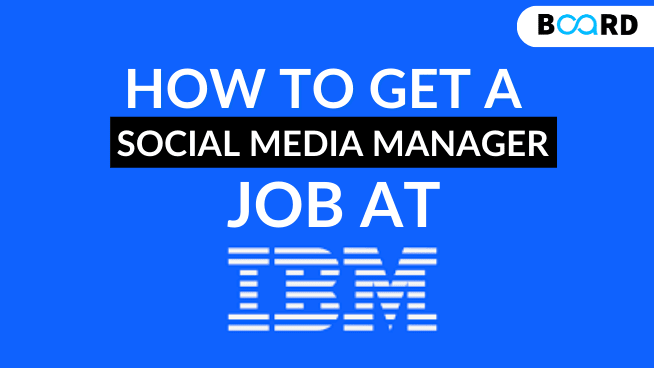 Social Media Managers are responsible for creating and maintaining the Brand Promotions, Advertising Campaign Strategy. They need to keep updating the brand products and services on different social media platforms.

Social Media Managers basically manage the Brand Social Media Handles. They also analyze the metrics of the paid campaigns to get effective and targeted leads for their products or services.

So, What are the skills that you need to adapt to become a Social Media Manager and get a Job at Companies like IBM? Let's get started with it.
Steps to Become Social Media Manager at Companies like IBM
Well, these requirements will vary from one company to another. Therefore, one should be very clear about what they need to be working on. You should have the ability to work with the latest technology and platforms; you should be capable of building and maintaining relationships with key users on the platform.
1. Build Public Relations (PR)
If you can build up and maintain relationships, you will have a head start when it comes to working experience. Basically, what you will have to do is look for jobs related to social media. This means that you should have the ability to build public relations with the people who are experienced in this field, so that there will be a high chance of getting a job with the help of PR. When working for a company or a small firm, managing social media should be given enough importance.
2. Grab the Strategy Planning and Implementation Skill
In addition to this, you should also be involved in strategic planning. Strategy planning is a crucial aspect of any business' success. Without strategy planning, there is no way that you can ensure that your projects are progressing as planned. Therefore, when working for a firm, you should know how to build strategic planning teams as part of your responsibilities.
3. Grab the Appropriate Degree
Now that you know what you need to have regarding qualifications and work experience, you should now be more explicit about what you should be focusing on when you apply for a job as a social media manager. Since most companies are looking for technically sound people, make sure that you have a Bachelor's degree or an equivalent. The reason for this is that most entry-level jobs involve aspects of IT. Therefore, you should have the basic skills required to be an excellent social media manager.
4. Job Opportunities
In addition to this, when searching for work experience, you will want to make sure that the position you are applying for does not require extensive training. The truth is that there is a lot of scope for advancement. However, some companies simply do not need you to have a Bachelor's degree or related qualifications to work in their company. Therefore, it is up to you to determine whether or not a position in a good company will boost your career.

Once you have gained decent work experience, you will want to start looking for a job as a social media manager. If you are still employed, you should ask your employer if they have any open positions and need to be filled. They are more than likely going to say yes. This is because managers have a lot to do with the growth and future of a company. Therefore, they are very important to their employers.
5. Qualifications
Well, these days, you may want to consider learning how to use various programs such as Twitter, Facebook, and YouTube. Although these are not mandatory, the more you know about using them, the more valuable your job will be. Not only that, but you will have something that sets you apart from other applicants.
Final Verdicts
For a Social Media Manager Job at Company like IBM, you must have excellent interpersonal skills. This is especially so when working for others. You will be able to make friends and build relationships with people in your work life and in your personal life. You should also make sure that you always put others' needs before your own. When it comes to what skills are required to get a social media manager job, it simply knows that you can handle any situation with ease