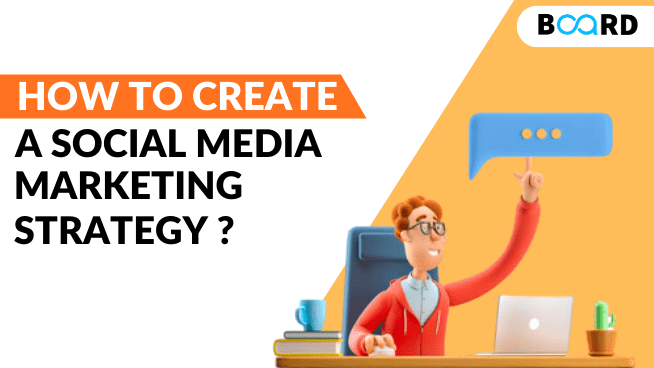 Social Media Marketing is crucial to the success of a company's digital marketing strategy. Yet, not all brands are using this tool to its complete potential.

Sure, social media marketing might seem a little daunting as it is so much more complex and competitive than it used to be. But a succinct marketing strategy will help a brand manage its business goals with a sense of purpose.
Want to fine-tune your social media marketing strategy? Read on!
What is Social Media Marketing Strategy?
These days, every company wants its presence on social media due to the growing popularity of Facebook, Twitter, Instagram, YouTube, and others. To get maximum user engagement and insights, having a social media marketing strategy is a must.
A Social Media Strategy is a detailed blueprint of everything you plan on doing and achieving on social media platforms. It helps you know the what, how, when, and why, for all the interactions and engagement of your company's presence over social media. In short, you get to know if you are flourishing or failing.

As per a Microsoft report, a social media user only gives 8 seconds of attention time to decide if he wants to watch the content or pass it. Thus, it becomes extremely important to have the best social media marketing strategy.

Willing to learn more? Here is a webinar on how to create a killer social media strategy.

To help you out, we have put together a comprehensive guide to create a social media marketing strategy from scratch. No matter if you are new to social media or simply want to tweak your priorities in 2022, we are here to help.

So, let's get on with it.
Steps To Create a Social Media Marketing Strategy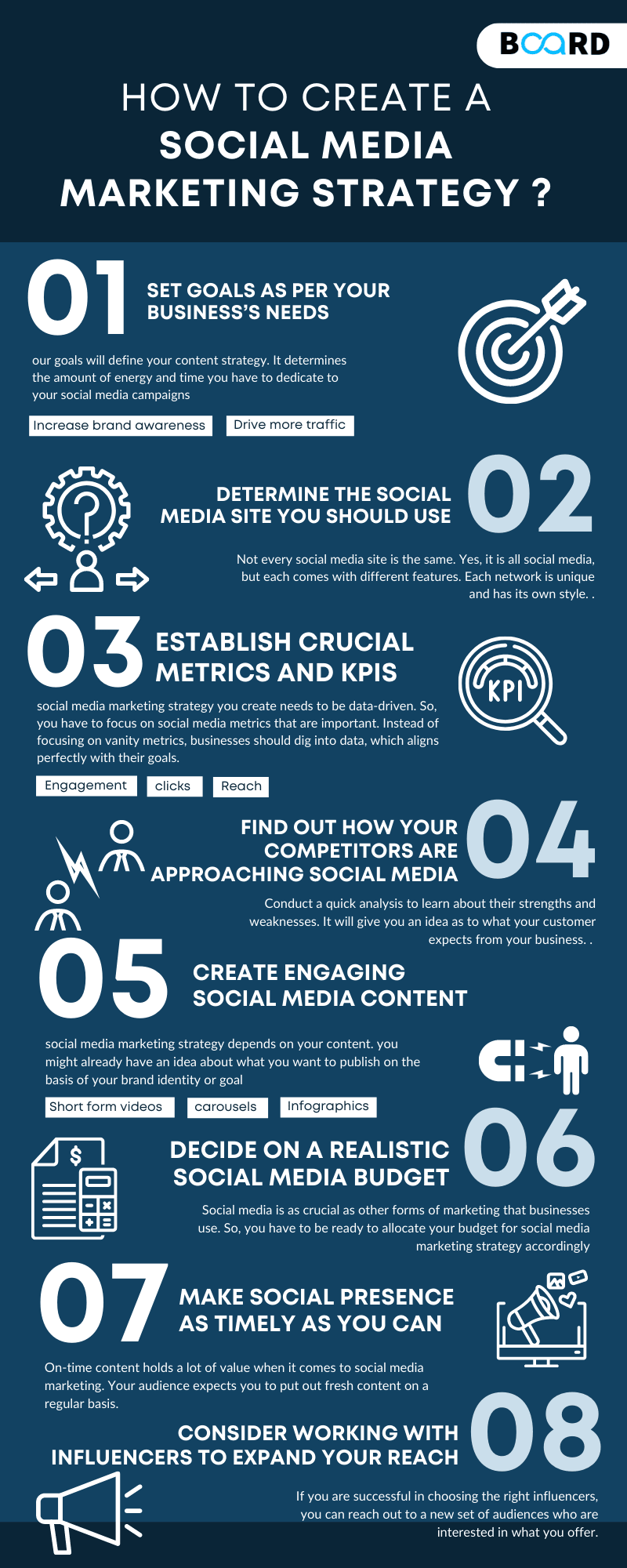 1. Set Goals As Per Your Business's Needs
What do you want from Social Media?

Remember, your marketing strategy will only work when you have a clear goal in mind. You might want to develop a community or a dedicated following. Some might even want the social media account to drive more results. Your goals will define your content strategy. It determines the amount of energy and time you have to dedicate to your social media campaigns.

Here are some common goals that businesses of all sizes and shapes can pursue:
Increase brand awareness and get your brand's name out there
Generate leads and increase sales
Improve community engagement
Grow audiences for your brand by bringing in new followers
Drive more traffic to the website
Any combination of the goals given above is fair game and helps you understand the networks you have to handle. But if you are doubtful, you can keep the social media marketing strategy simple instead of muddling it with different objectives, which might be distracting. Choose one or two and stick to them.
2. Determine the Social Media Site You Should Use
Not every social media site is the same. Yes, it is all social media, but each comes with different features. Each network is unique and has its own style. So, you have to choose a social media site that is suitable for your marketing strategy and will help in achieving your goals.

It isn't always necessary to be on all of them. Choose the ones that are important to you and your audience.
Some factors that you need to take into account while choosing a social media site for marketing your business are discussed below.
Audience: You need to know where your prospective customers hang out. Also, it is important to learn which social media platform has the ideal demographic.
Resources: Consider the skills and personnel you have. Visual social networking platforms, such as Instagram require videos and images, while Facebook emphasizes quality content. Before you choose one, think if you have the resources to develop what is required.
Time: The time you can dedicate to social networks also needs to be taken into account. In the beginning, you have to dedicate at least an hour per day to each social media network.
You can do demographic and audience research to find out what's best for your social media plan.
3. Establish Crucial Metrics and KPIs
Regardless of what you are selling, the social media marketing strategy you create needs to be data-driven. So, you have to focus on social media metrics and key performance indicators that are important. Instead of focusing on vanity metrics, businesses should dig into data, which aligns perfectly with their goals.

The breakdown of the most important metrics for a social media plan is given below.
Clicks: It is the number of clicks on your account or content. By clicks per campaign, you can understand what is encouraging people to buy your product or service.
Reach: A post reach is the total unique users checking out your post. It helps you understand how far your content is reaching the feeds of the users.
Engagement: The total social interactions divided by total impression. It gives you an idea about how well your potential customers perceive you and are ready to interact.
Paid and Organic Likes: Organic engagement is much more difficult to gain tracking. This is the reason several brands turn to ads. Knowing the key differences between both will help in budgeting your funds and the time you are investing in different formats.
Hashtags: Learn about the most used hashtags and the hashtags that are more associated with your brand. With these answers, you can make your content reach out to more people.
Remember, an effective social media marketing strategy is based on numbers. Be that as it may, these numbers have to be put into a context that will circle back around to your actual goals.
4. Find Out How Your Competitors are Approaching Social Media
A majority of the businesses do not operate in isolation. You will generally have competitors who run their own social media plans. So, you have to find out what your competitors are doing.

Conduct a quick analysis to learn about their strengths and weaknesses. It will give you an idea as to what your customer expects from your business. There are tools that you can use to keep a track of your competitors and manage your social media plans accordingly.
5. Create Engaging Social Media Content
It isn't surprising that your social media marketing strategy depends on your content. By now, you might already have an idea about what you want to publish on the basis of your brand identity or goal. Also, you might already know the networks that you would like to cover.

But what really is content strategy? Here are a few inspirations and ideas that might help.
Stick to content themes. From captions to filters, several brands depend on the same content format time and again. With the right content themes, you can create an effective content strategy.
Don't miss out on the stories-style content. They are interactive and quite popular among social media users. Using Stories you can be fresh in the mind of your audience. This is a valuable feature if you have to take your followers behind the scenes. It makes the social media feed feel a little more personal.
Short-form videos are dominating the social media space, particularly with the popularity of TikTok videos, YouTube shorts, and Instagram reels.
As we said, competitor analysis is important. If you have a good idea about what your competitors are up to, you can draw up your own content accordingly.
5. Decide on a Realistic Social Media Budget
Social media is as crucial as other forms of marketing that businesses use. So, you have to be ready to allocate your budget for social media marketing strategy accordingly. Your social media plan might not be able to succeed if you just ask your pre-existing staff to take care of it along with the other responsibilities they have. However, that doesn't mean you should spend more than you earn through increased sales.
Like other forms of marketing, you need to calculate the return on investment from your expenditure on social media, keeping in mind the goals you have for your strategy. When you decide on the budget, you need to consider the amount you would like to spend on digital marketing across all platforms. Thereafter, ask yourself the amount you are ready to dedicate to social media marketing.
6. Make Social Presence as Timely as You Can
On-time content holds a lot of value when it comes to social media marketing. Your audience expects you to put out fresh content on a regular basis. Also, they want you to always be active with your followers. But you cannot expect your customers to work as per your time. Timeliness can be a tad difficult to achieve when you are strapped for resources or have a small team.

To maximize your schedule, here are a few tips you can check out.
Post at the best times for your customers to engage. Ask yourself when your brand is ready to interact and engage with customers. Ensure a time your social media managers are ready to answer product concerns and questions.
Customers expect speedy responses from brands and want to have meaningful conversations. You should not forget these core elements of networking. Make sure that engagement opportunities and conversations aren't left unattended.
Remember, you should not leave your customers hanging. Designate teams to certain tasks that will help them run a well-oiled social media team.
7. Consider Working with Influencers to Expand Your Reach
We all know the advantages of working with a social media influencer. So, you should tap into this social media marketing strategy, too. If you are successful in choosing the right influencers, you can reach out to a new set of audiences who are interested in what you offer.
Influencers have mastered the art of social media marketing. They have been successful in building a solid reputation over the internet and have a large number of followers. Thus, you can consider working with them to direct the followers to your site.
8. Time to Get Social
The guide highlights that there are many moving pieces to a present-day social media presence. Be that as it may, putting together your strategy does not have to be a drag. By addressing each step we have listed, you just have to set actionable goals for your social media plan. This will help in staying ahead of the curve.

Check out our Digital Marketing Course to get more exposure on how to create the best social media marketing strategy. Gain expertise and mentoring by top business experts and professionals in search engine optimization(SEO), social media marketing, pay-per-click, web analytics, mobile, and email marketing. After completing this course, you will get a digital marketing certification, personalized coaching, and placement assistance.