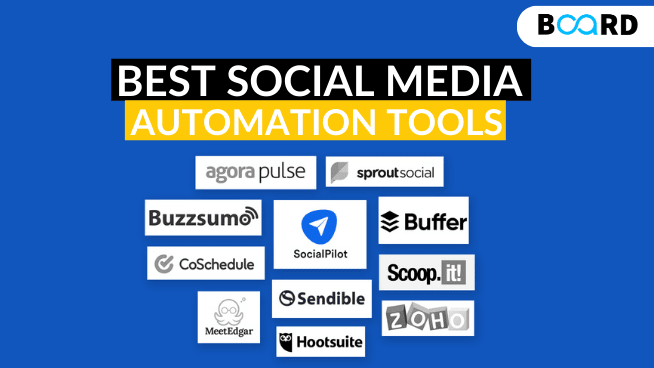 Social media automation is the use of certain tools to reduce human intervention to the bare minimum. The main goal of social media automation is to save time for the user by automating tasks that don't necessarily require continuous input.
In this post, we'll highlight the best tools for social media automation that will let you streamline your social presence and stay focused on your most important tasks.
1. Buffer
Buffer is a software application for the web and mobile, designed to manage accounts in social networks, by providing the means for a user to schedule posts to Twitter, Facebook, Instagram, Instagram Stories, Pinterest, and LinkedIn, as well as analyze their results and engage with their community.

With Buffer, you can save a lot of your time and manage multiple social media accounts - All from one place. It is also very easy & intuitive to use, even for beginners. They also have a ton of FREE resources that you can check out & learn from.
Checkout Buffer here: Buffer: Simpler social media tools for authentic engagement
2. Sendible
Sendible is an all-in-one social media management tool designed to help you manage your social networks from one place.

The unified social media dashboard not only lets you plan and manage all your content but also saves you time jumping between individual social streams as it automatically gathers conversations into one inbox.

Sendible is also great for monitoring keywords of different brands and competitors. You can also set it up such that you get automatic alerts & notifications via Slack, and email, within your Sendible account whenever you get a match.

Check out Sendible here: Sendible: Social Media Management Software
3. Agorapulse
Agorapulse is another automation tool that has a ton of powerful features built-in for easier social media management.

It includes flexible scheduling options (whether you like to reschedule, queue, or bulk upload all your posts), an inbox to catch every conversation (comments, messages, ad comments, etc.), and one-click reports to determine the ROI of your social efforts, real-time collaborations with other members of your team, built-in CRM to track and segment your followers into various groups, and a lot more.

Agorapulse is similar to Sendible in a lot of ways, but they both have their differences too.

Check out Agorapulse here: Agorapulse | Social Media Management Software
4. Later
Later allow you to visually plan, schedule, and analyze posts on Instagram, Facebook, Pinterest, and Twitter.

Later is also a very visual platform & beginners generally find it very easy to get used to its intuitive structure.

Later allows you to pre-plan & schedule all of your content visually, organize & store all of your photos and videos in one place (accessible from any device), preview what your future feed will look like even before you post the content on it, find & repost user-generated content, keep a track on the analytics of your accounts, and a lot more.

The good thing is that it's also FREE, but it has limited capabilities that way.

Check out Later here: Later: #1 Instagram Scheduler & Social Media Platform
5. Hootsuite
Hootsuite is another popular choice. You can use it to schedule your posts and monitor the competition. Using search streams, you can more easily build a community of followers.

Hootsuite also has an auto-scheduler feature that uses a fancy algorithm that finds the times that offer the most engagement for your content and then fires them off at those times.

Hootsuite analytics removes the "guessing game" that comes along with social media. It lets you easily measure the performance of your social media posts and then create and export custom reports that will help your team decide what's working and what's not.

Check out Hootsuite here: Hootsuite: Social Media Marketing & Management Dashboard
Why Use Social Media Automation
Some of the ways social media automation could be put into action include:
Set up automation to respond to common user questions
Scheduling weeks of Facebook / Instagram / Twitter posts at once
Find analytics on things that you wouldn't usually even think of
Know when your audience is most likely to interact with your content
Find suggestions on trending content
You need to spare some time to watch our video on Top Social Media Automation tools:
---
Conclusion
There are a lot of social media automation tools & it's not a compulsion that you have to use paid software to grow on social media. We recommend you stick to the old-school ways of posting unless you see a desperate need for automation.

You can always buy an automation tool once you have a decent following & are used to the other tools that are built into the platform.
---
If you want to learn more about social media & digital marketing then you should consider joining Board Infinity's Digital Marketing Course. Get access to premium content with the help of top industry experts who provide personalized mentoring. Along with a certification upon completion, get assured placements too!