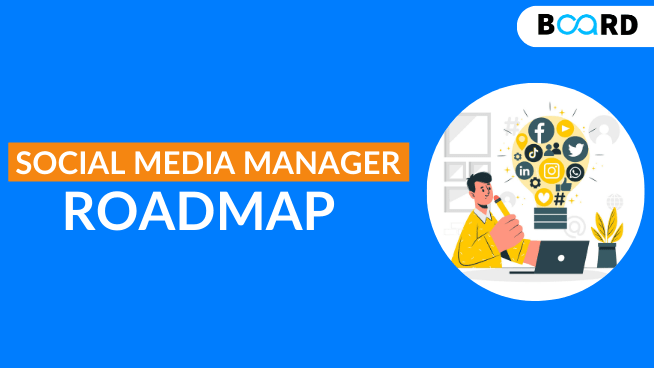 A Social media manager/marketer is a viable career path in this day and age. Most social media marketers help businesses grow their online communities. This usually includes writing and scheduling posts, running ads, replying to fans, creating graphics, etc. Your duties as a community manager or social media manager will most likely depend on your job description, time, budget, and expertise.

The thing about a job as a social media manager or social media marketer is that the growth is almost exponential as you gain experience. There's also a huge amount of flexibility in the digital marketing space as it's a huge sector.

So, how does one become a Social Media Manager?
1. Build Your Own Social Media Profiles
Before you apply for any type of social media job, make sure that your social media is decent. The first thing that employers will check (when you have little to no experience) is how your social media profiles look or feel.

You're applying for a social media job after all. Build some sort of a presence on social media (the more, the better) and familiarize yourself with each social media platform & the various tools it provides for businesses.
2. Build Your Knowledge
A social media marketer needs to at least have a basic knowledge of other forms of marketing (e.g. paid advertising, SEO, SEM, influencer marketing, email marketing, etc.) The more knowledge you have, the better time you'll have adapting to the systems.

Having a basic knowledge of different forms of digital marketing will allow you to exponentially grow your value to the company. You'll also have a better idea of how different systems can be integrated along with social media marketing to give companies a better ROI (return on investment).
3. Learn To Track & Read Data
As a social media manager, it could sometimes get hard to track the value/monetary return that you're providing to the company. This is exactly why you need to be able to track & read the data from your social media efforts.

The ability to use analytics to prove ROI (return on investment) and create meaningful social media reports is a key skill for social media managers.

By doing this, you'll also be able to pinpoint the amount of return that you bring to the company.
4. Be Creative
At its core, social media is about creating content: writing, design, photography, video. You need to be creative when you work as a social media manager.

A social media manager handles different things like:
writing and scheduling posts
writing articles/blog posts
maintaining the brand's presence on social media
creating social media graphics
This needs you to have a ton of creative skills as well. Creativity will become a part of your day-to-day routine. It's like any other skill. The more you practice it, the better you will get at it.
5. Learn To Research
This is an integral part of any digital marketing job. You need to learn how to research your competition, other brands, other influencers, etc.

Social media managers must stay up-to-date with the ever-changing world of social and digital media, the new measurement tools others are using and what competitors are posting on a daily basis.

You can use a bunch of tools like Google Alerts, Twitter Trending Hashtags, etc., to keep up to date or find trending content.

Great social media research skills can help boost your reputation as an expert in your field. But it's a wild world of information out there. It can be tricky to find the precise data you're looking for from a credible source.
6. Be Flexible
Flexibility is important in any marketing role, but even more so in social media management. The social media landscape moves so quickly that being adaptive is an absolute necessity. It's not enough to be able to schedule posts.

You must be able to try out new features and change things up based on new trends and the continual testing and analytics that you should be running on your posts. Once you have the analytics in front of you, you also need the flexibility to try new things to make your social media work best for you.

A/B testing (writing posts in multiple ways, with different images) can help you quickly determine which types of images and copy are working for your company - and which aren't.
7. Do Project & Apply For Jobs
Once you've done all of the things above, you can start doing some real-time projects. You can build up a blog, a website, an Instagram page, a YouTube channel, and so much more. With social media, the sky is the limit and there are a ton of projects that you can do to build out your portfolio.

After all, real tangible results (which will come through projects) matter more than any type of degree or certification that you do. So, do a few side-projects, and then you'll be ready to apply for a job.

There are tons of jobs out there, especially now that the digital industry is more booming than ever. You just need to provide value to someone, and you'll get hired.
Conclusion
In this digital day and age, social media has become one of the most important tools for businesses to grow. And therefore, it has become a field that has multiple openings for one to enter into. Follow the above-given roadmap and you'll be able to find a job in your dream company as a Social Media Manager.
---
If you're someone who wants to accelerate your career in social media marketing. check out our Digital Marketing Online Course to start your career in digital marketing. Gain expertise in Digital Marketing and mentoring by top business experts and professionals. After completing this course, you will get a digital marketing certification, personalized coaching, and placement assistance.