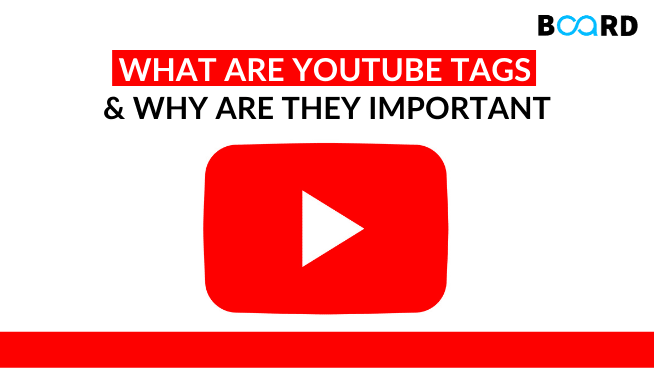 What Are YouTube Tags and Why Are They Important?
Introduction
YouTube is the most popular video platform on the planet, where  YouTube is the world's second-largest search engine and with the sudden popularity of video content, it has become a massively important factor to create unique content and serve it to the right users. On the platform, creators connect & make videos. Using Youtube tags, they show up their content in search results.
What are YouTube Tags?
YouTube tags are nothing but simple words and phrases which describe your content and keep your content ahead among others.
When a user searches on YouTube, YouTube tags play a significant role in serving the most relevant videos to the user. They are the key players which help in recommending correct content to show up in search results. As a creator, one must comprehend how YouTube tags function to ensure their videos are being seen by the right people.
Tags vs Hashtags
Tags and hashtags might seem the same but they are not.
#ThisIsAYoutubeHashtag however "this is a YouTube tag".
YouTube tags: These are the words or phrases we use to describe the video which we put in the tag box. More precise tags are used to categorize and describe your material by ranking your videos. For example- The first tag that a creator puts on a video about photography is photography because viewers will use this tag as their search point when looking for any photography-related videos.
Hashtags: These, like on any other social media, are used in the video description. And unlike the tags, hashtags are just words, not sentences. They are keywords preceded by a '#' symbol which helps in connecting your content with others' content on the same topic. So, the visibility changes as the viewers get more videos when he/she searches for a specific hashtag. For example, if someone wants to learn more about photography, they'd search the hashtag, i.e., #photography.
Why are YouTube Tags Important?
YouTube tags are important for creators to make their videos visible to viewers, as the YouTube algorithm determines which videos are most relevant to a user's search.
Effective Search Engine Optimization should be the commitment of creators for a better ranking of their YouTube videos. The use of proper YouTube tags and keywords helps in improving the video search rankings.
What do YouTube Tags do?
Recommend Right Content: They help the recommender system to show the users the next relevant video through the use of tags.
Show Up in Search Results: While running a search these little tags put your video on the top of the search engine making it easier to be found by the viewers.
Keep at the Top in Search Ranking: Adding proper YouTube tags helps YouTube algorithms to understand your content and keep it at the top of the search ranking.
YouTube Tags and Ranking
Your tags determine which search results you show up on and videos with the most relevant tags will be ranked higher. Your channel will also get a higher ranking if it is associated with the keywords that your video is tagged with. YouTube doesn't count all of your tags in their ranking algorithm, but for simplicity's sake let's just assume that they do.
Your first 3-5 tags are the most important because they're going to be included in every search result for your video. You can boost the spacing of the tags to make them stand out more and isolate them in search results. The importance of the first few tags increases once you start adding other popular tags, so it's a good idea to continue adding popular tags as your channel grows.
The best practice is, 'First Tag = First Target Keyword'.
For example, If anyone wants to know about What is Search Engine Optimization and how it Works then 1st Keyword will be "Search Engine Optimization".
Adding Tags to YouTube Videos
It takes more than just technical expertise to add tags to your content when you publish it online, including YouTube videos. You must be smart enough to understand which tags will elevate your content in the YouTube search results.
There are a few ways that allow you to add tags to your videos. At the end of uploading the video, where a page asks about all of its metadata such as title, description, and tags, is the preferred method for tagging your videos because it will show up in every search result for that video.
While uploading a new video you can add the tags:
Sign in to your YouTube channel.
In the Creator Studio, in the top right-hand corner, click Create. Upload Video.
Select the content file that you'd like to upload.
In the upload flow, click on More Options and add your tags.
For uploaded videos you can add tags by the following steps:
Sign in to the YouTube channel
In the creator studio head to content
Scroll down until you find the video you want to Edit
Click on details and scroll down where it says show more
Click on that button and now you can add tags to your videos
Save the changes.
Best Practices while adding YouTube Tags
Although anyone on YouTube can add tags to YouTube videos, there is a set of best practices for this that has been used several times and have proved effective:
Initial tags-
The first tags should be your target tags and the most relevant ones. YouTube gives importance to tags on the basis of their position in the tags list.
Use trending tags-
Trending tags make it easy for your video to surface. Use these to beat your competition however, keep it as few as possible. You do not want to drift too far from the target.
Use broad tags-
It is best to add tags that are broader than narrowing them down. For example, if you have a video on "Basketball layups 101 from Kyrie Irving", then it is more advisable to use tags like "basketball" and "kyrie irving".
Too much vs too few-
If you use too many tags or too few tags then things could go against you. Do not go all crazy with tags. And if you are falling short, take inspiration from popular tags in your niche. YouTube auto-suggest is a suitable tool for this.
YouTube Tags Example:
Let's understand how to generate high-quality YouTube tags for your video. Suppose you want to upload a video on Product Management, then below are the most SEO-optimized YouTube tags that will fit your video:
product management, product management jobs, agile product management, product manager, what is product management, product management skills, product management training, product manager role, product manager jobs, product manager salary, what is a product manager, product manager, etc.
You can do a prior YouTube tag search in the browser to know the appropriate tags for your video even though there are a number of free and paid tools available on the internet using which you can generate high-quality SEO-optimized YouTube Tags.
How to find tags behind successful videos?
To find tags behind successful videos, you can use a tag extractor. This shows an overlay under each YouTube video you watch with the tags used and also it has a download tags feature that generates a CSV file of all the tags.
Are YouTube tags still relevant in 2022?
The answer is YES. These tags have been effective and still will be effective in 2022. They are the inbuilt mechanism and the main way to grow organically.
Google also has some advanced algorithms at play. The algorithm checks the video frame by frame to generate video tags by analyzing the video and the audio. Aside from the backend, YouTube also uses the title, thumbnail, and description to analyze the recommendations. Tags work in addition to this algorithm.
Conclusion
If you have been through the whole post, then you already know about YouTube tags and their importance. You may increase your chances of having your video rank well in YouTube search results by doing all of these things. These are some crucial specifics about the significance of YouTube tags along with some recommended practices for improvement. One should use them with a proper title, thumbnail, and relevant description to get a massive edge over others in their niche. That's the staircase to growth.
---
Do you want to learn how to master digital marketing? starting from scratch as a beginner to being a professional in digital marketing. We'll go through every detail to help you become an expert in the field. Once explore our digital marketing course to experience your real potential.
Subscribe to our Newsletter
Receive latest industry news and updates, exclusive offers directly in your inbox.
---